Over de Slipperbus
Hey! Ik ben Tom en ik heb een klassieke brandweerauto omgetoverd tot een Slipperbus. Met de Slipperbus rij ik door het hele land met meer dan 300+ slippers van de merken Havaianas, REEF en OluKai.
Bekijk onze evenementenkalender wanneer wij in de buurt zijn of bestel je slippers via onze webshop.
De Slipperbus kun je ook inhuren, vraag hier naar de mogelijkheden.
– Tom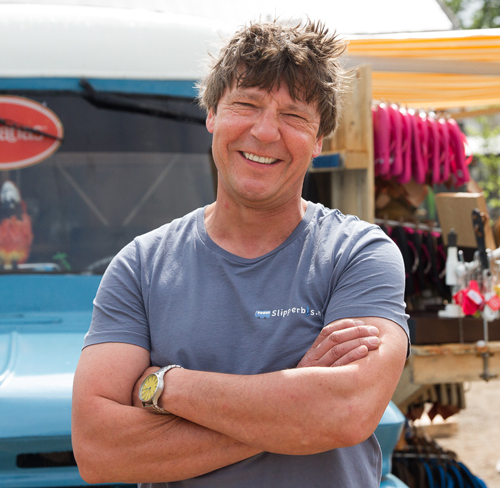 Havaianas
Wie kent de Havaianas slippers niet? Een zomer zonder deze Braziliaans gestylde accessoires is ondenkbaar. En denk maar niet dat je ze alleen op het strand kunt dragen, ook in de stad sla je een goed figuur. Kies je kleur!Havaianas: kleurrijk voor iedereenHavaianas bestaat al sinds 1962 toen het eerste paar flipflops van het merk ter wereld kwam. Geïnspireerd op de Zori, de typische Japanse sandalen met stoffen bandjes en zolen van rijststengels werd het merk al snel een hit in eigen land. Tegenwoordig heeft het voetbed van de hedendaagse Havaianas slippers nog steeds dat opvallende rijstpatroon. Het merk veroverde de hele wereld dankzij grappige commercials en natuurlijk de slogan: Havaianas. Everyone wears them. De kleurenexplosie en grappige beelden werkten aanstekelijk en brachten de opgewekte stemming van Havaianas over. De collectie vernieuwde regelmatig, met nieuwe prints, kleuren en modellen. Toen vanaf 2000 ook de internationale modebladen dit merk lieten zien, was de wereld helemaal verkocht.Havaianas worden inmiddels in meer dan 60 landen verkocht. Of je nu gaat voor een ontwerp met een breed of een smal bandje, met of zonder enkelstrap, er is voor dames en heren genoeg te vinden.
Reef
Reef bestaat nu 30 jaar en werd geboren uit een idee van Fernando en Santiago Aguerre, ondernemer-broers uit Zuid-Amerika met een liefde voor de zee, de branding en de strandcultuur en droomde ervan om een hoge-kwaliteit 'actieve levensstijl' sandaal creëren. Om hun visie tot leven te brengen verhuisden de broers naar Zuid-Californië om het merk Reef op zetten. De productie regelde zij in Sao Paulo Brazilië in 1984, waar ze voor het eerst de iconische sandaal produceerd dat Reef de marktleider in de open-teen schoenen maakte.Geïnspireerd door de mooie vrouwen van de stranden in Zuid-Amerika, zegen de broers hun kans schoon om bij de 'branding' van het merk een exotisch element toe te voegen dat ze Miss Reef noemen en wereldwijd een icoon van de surfende gemeenschap is geworden. Sindsdien zijn deze levendige cultuur en de beelden van de mooie Reef meisjes van Latijns-Amerika een deel van het DNA van Reef geweest.Nu 30 jaar later, is het bedrijf bloeiende als de wereldwijde surf lifestyle merk dat leeft van de "Just Passing Through" mentaliteit van surfavonturen. Reef is gebaseerd op de geest van de wereldwijde reiziger tot casual lifestyle schoenen voor mannen en vrouwen, maar ook kleding voor mannen die functie en mode combineert voor het leven op de weg aan te bieden. Met behulp van technologie en een groot aantal eco-gebaseerde materialen geïnspireerd door Reef Redemption, Reef levert voortdurend direct comfort en exotische styling, en streeft ernaar in de richting van veelzijdige en multi-functionele producten voor de reizende surfer. Het merk is ook bekend om een ambassadeur programma dat een aantal van de beste zwervers en waveriders over de hele wereld ondersteunt.Wij zijn met trots partner van Reef en verkopen al jaren met veel plezier duizenden Reef Slippers.

Olukai
Het begon allemaal met een nieuwe aanpak voor een 'footwear' bedrijf. Zij wilden schoenen en slippers ontwikkelen dat duurzaamheid voor de 'waterman' / oceaan levensstijl en merk met sterke waardes in roots, style, comfort en vakmanschap.

Bekijk onze hele webshop
Klik op de knop hieronder en bekijk alle slippers